Covid 19 – Children and Young adults
Digital NHS COVID Pass is now available to children aged 12 to 15
The NHS COVID Pass service is now available to 12-15 year olds, accessible via NHS.UK for those aged 12 and over, and the NHS App for those aged 13 and over.
Both the digital (App and NHS.uk) and letter NHS COVID Pass are widely accepted for international travel. It provides a record of all COVID-19 vaccinations received, with the digital Pass showing evidence of recovery for 180 days following a positive test. International travellers should check the entry requirements of the country they are visiting as requirements for testing and vaccination can vary from country to country.
As well as accessing their NHS COVID Pass, the NHS App will allow 13 to 15 year olds to access other non-personalised services such as Health A-Z, organ donation and 111 online.
_________________________________________________________________________________________________________
Vaccinating children should help to reduce the need for children to have time off school and to reduce the risk of spread of COVID-19 within schools. The COVID-19 vaccination programme in secondary schools will therefore provide protection to children who are vaccinated and help to reduce disruption to face-to-face education this winter.
All young people aged 16 and 17 years have now been offered 2 doses of COVID-19 vaccine 12 weeks apart. Children and young people aged 12 to 17 years who are at increased risk from infection, or who are living with someone who is immunosuppressed, have also been offered 2 doses of the vaccine, 8 weeks apart.
And now all children aged 12 to 15 years are being offered 2 doses of vaccine as part of the school-based COVID-19 vaccination programme.
Children aged 12 to 15 will be able to receive their second dose of COVID-19 vaccination in their school. All children who have yet to receive their first dose can have their first at the vaccination session.
12 to 15 year olds are also able to access the vaccine outside of school through vaccination or walk in centres. Bookings can be made on the NHS website.
The vaccine will also continue to be offered in school to ensure there is equal access for all children. Children who are 12 years old and over on the day the School Age Immunisation Service (SAIS) team visits the school, will be offered a vaccination as part of the in-school vaccination programme.
If a child has tested positive for COVID-19
Children (aged 12-17) should not attend a vaccination session or appointment either at school or at a centre if they have tested positive for COVID-19. They should self-isolate and wait for 12 weeks (84 days) before having their first or second dose.
Children (aged 12-17) who are at increased risk, should wait 4 weeks (28 days) from a positive test result, before having their vaccine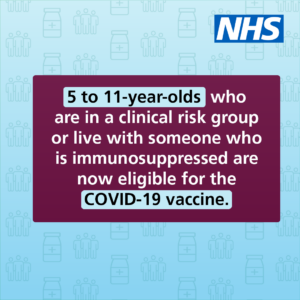 COVID-19 vaccination for at risk 5 to 11-year-olds
The Joint Committee on Vaccination and Immunisation (JCVI) has advised that 5 to 11-year-olds who are either in a clinical risk group or are a household contact of someone of any age who is immunosuppressed should be offered two 10 micrograms doses of the COVID-19 vaccine, with a minimum interval of eight weeks.
The JCVI has set out criteria for determining who should be offered vaccination within this group and clinicians will be responsible for identifying children in their care who are eligible. Parents will need to give consent for their child to be vaccinated.
GPs and hospital specialists have been asked to identify 5 to 11-year-olds who are eligible for COVID-19 vaccination.
For children eligible as a household contact, the person who is immunosuppressed will be written to directly.
Parents and guardians will be notified if their child should get the vaccine and told how they can book an appointment.
The NHS will be in touch with you in the coming weeks if your child is eligible.